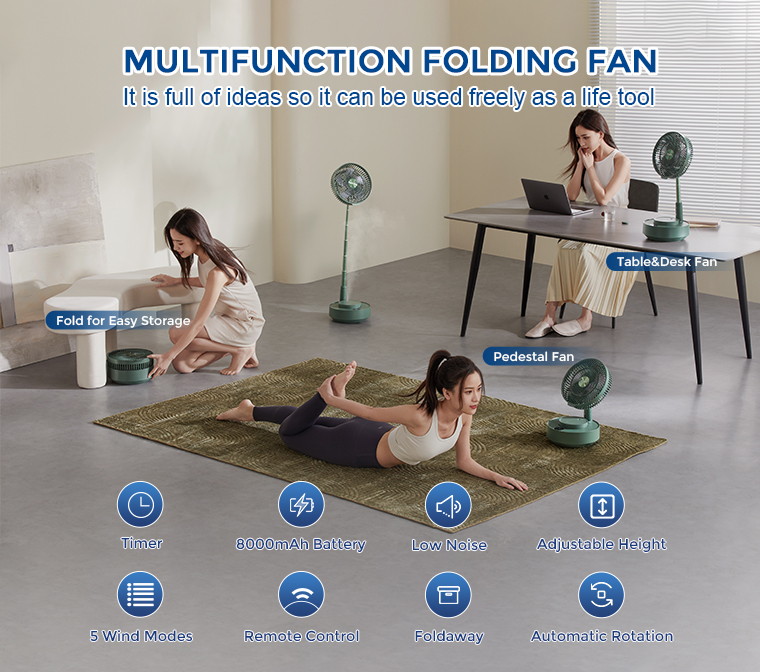 EDON is a caring and dynamic company. Our aim is easy, enjoy, everyday! This inspires us to always adhere to the direction of designing and developing creative small household appliances. Our small appliances are mainly storage space-saving and multi-functional, which will bring you a different experience!
Our creative inspiration comes from life. Just imagine, is there a fan that I can use on the floor, on the table or when I am camping? Our E908 telescopic rod folding fan can magically realize my fantasies.
The function of the telescopic rod is to easily adjust the height, and it is also effortless for girls to use. The heighest of our E908 is about 1 meter, and when it is fully stored, it is equivalent to the size of two fan bases. When we finish using the fan every time, we can fold it and put it in the drawer or the corner of the wardrobe at home to avoid dust accumulation.
It has 4 gears of wind speed, the fourth gear is the natural wind. It is especially suitable for us to turn on the natural wind when we sleep at night. The soft and cool wind is very comfortable. If you are afraid that you will catch a cold easily if you keep blowing the wind, you can turn on the rotation mode. The fan is suspended and rotates 120° left and right, and it can also play a role in air circulation. It is a friendly partner of our air conditioner. Or you can set a timer, and you can control the blowing time. It is worth mentioning that this is a rechargeable battery fan with a built-in 8000mAh battery, which can last for 2-15 hours when fully charged.
After a summer, the blades and front grille of this portable fan are hard to avoid collecting dust during daily work. Don't worry, our front grilles are all detachable. Cleaned well, the fan looks like new, store it up and use it next summer.
In short, this is a rechargeable fan that is both use on desktop and floor-standing. With it, you will find that it can be used anywhere in your home. Start your non-sultry summer.